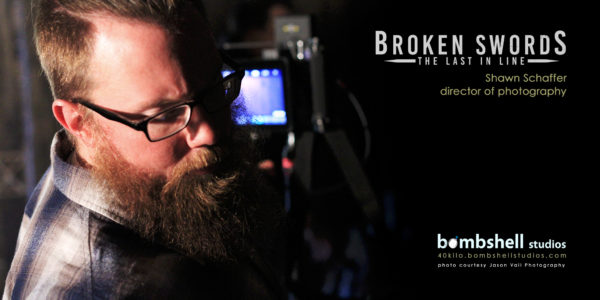 Shawn Schaffer, Cinematography
Shawn has been in the industry since 2002. He started as an actor, appearing in a few roles for local filmmakers. He soon realized he had more interest (and talent) behind a camera than in front of one.
Shawn has worked as a the Director of Photography on hundreds of projects, ranging from commercials to theatrically distributed feature films starring Academy Award nominated talent.
Most notably, Shawn was the Director of Photography for "Fighting for Freedom", starring Kristanna Loken (Terminator 3) and Academy Award and Golden Globe nominee Bruce Dern (Nebraska).
Shawn was also the Director of Photography for "Comedy Warriors: Healing Through Humor", featuring the talents of Zach Galifianakis (The Hangover), Lewis Black (Root of All Evil), BJ Novak (The Office), Bob Saget (Full House), and five tremendous members of our Armed Forces; Bobby Henline, Rob Jones, Joe Kashnow, Darisse Smith, and Stephen Rice. "Comedy Warriors" not only had it's World Premiere on Showtime, it also won a 2014 Television Academy Honor, and is currently available on Netflix following its theatrical run.
When approaching a project, Shawn works closely with the creative forces involved in the project to make a harmonious collaboration. This is his preferred method of working, it ensures a singular, unified vision when production begins and an end product that is representative of all the creative collaborative at it's best.
Shawn resides in New York while working nationwide and abroad. He is married and has a daughter, whom is his most beautiful creation and achievement.
In his off time, Shawn writes and plays pool, having competed five times in the American Poolplayers Association National Championships, finishing twice in the top ten.